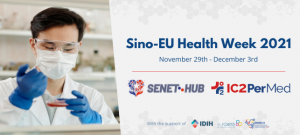 Do you want to collaborate with health researchers and innovators from China and the EU? Join us for the first Sino-EU Health Collaboration week!
IC2PerMed, SENET, IDIH, EURAXESS, ENRICH in China and Sino-EUPerMed are joining forces for a week of interesting webinars and matchmaking events.
Are you interesting in better understanding the state-of-play of collaboration and its challenges, including data sharing and exchange? Are you searching for the best mechanisms to connect and build a project with Chinese/European counterparts? Do you want to access the Chinese market or learn more about the opportunities of Sino-European collaboration on Personalised Medicine? Our webinars are for you!
Besides the webinars, you will have the opportunity to register every day to matchmaking sessions with experts sharing your health priorities or willing to collaborate on a specific Horizon Europe call.
Visit our registration page to access to the detailed agenda and register to the webinars and matchmaking sessions:
Monday, 29. November 2021: State of play of Sino-European health collaboration | SENET, IDIH
Tuesday, 30. November 2021: Facilitating Sino-European health collaboration | SENET, EURAXESS
Wednesday, 1. December 2021: It's all about data, isn't it? | IC2PerMed
Thursday, 2. December 2021: Market access for innovative health products | ENRICH in China
Friday, 3. December 2021: Personalised Medicine, a common health priority between EU and China | IC2PerMed, Sino-EUPerMed